About philanthropy at Plunket
Plunket partners with a number of philanthropists (individuals and trusts), who are passionate about investing in the health and wellbeing of New Zealand children and their whānau.
We take your investment in our work seriously and Plunket is committed to using your donation to make a tangible difference in the most effective way.
Many areas of our work are not covered by government funding, so we're grateful for life-changing donations of $5,000 or more given through our philanthropy programme.
How to get involved
Are you considering making a generous donation and want to know how to make the biggest impact? We'd love to discuss this with you. Please get in touch and email philanthropy@plunket.org.nz.
What you can expect from us
When you become a philanthropic partner with Plunket, you can expect:
A dedicated member of staff – who will work with you to determine your areas of interest and how your donation can make the biggest impact for families. They will be your point of contact for information and can help answer any questions.
Regular updates – on specific projects you're supporting, bi-annual newsletters and our Annual Report, so you can see the difference you're making.
The opportunity to meet our team – to see first-hand how your investment is changing lives.
Special invitations – to connect with other supporters, attend special morning teas, and projects openings that you've helped fund.
Recognition – we're happy to discuss appropriate ways for your support to be acknowledged. However, we will respect your wishes if you wish to remain anonymous.
Examples of our philanthropic partnerships
VC
B
reastfeeding Support:
Chloe and Wayne Wright, The Wright Family Foundation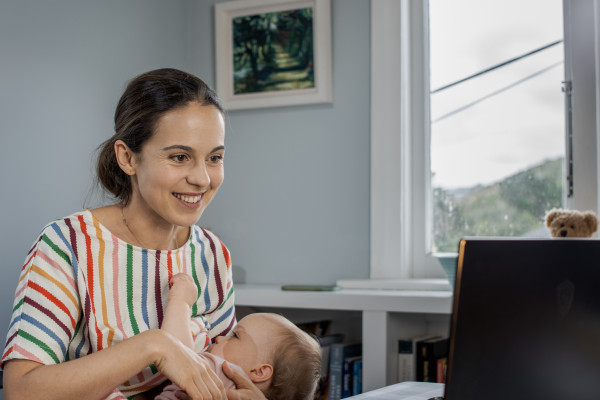 Chloe and Wayne Wright share Plunket's passion and vision for helping every child get the best possible start in life. In 2017, the Wright Family Foundation made a $500,000 donation to Plunket to ensure New Zealand mothers would have access to specialist breastfeeding help and advice around the clock.
Thanks to this very generous investment, PlunketLine can now offer a specialist breastfeeding support service via video-call to a smartphone, laptop or tablet.
This service is accessible to all whānau – even if Plunket isn't their Well Child provider – and is especially beneficial for mothers in rural locations, or where there's difficulty accessing a lactation specialist locally.
PlunketLine's breastfeeding support service has received extremely positive feedback, with nearly 100% of respondents saying they felt more confident after their session.
The Wright Family Foundation funded the training of our PlunketLine nurses to become International Board-Certified Lactation Consultants (IBCLC®), and the technology to enable this innovative new service.
Poutokomanawa
– Manurewa Plunket Centre
: Ted Manson Foundation
Thanks to the generosity of Ted Manson, Philanthropist and Director of Mansons TCLM, tamariki and their whānau now have a warm, welcoming, safe space in South Auckland where they can relax and meet other parents – as well attend Plunket clinics and ask questions about the health and wellbeing of their family.
The significant refurbishment of Plunket's Manurewa Centre – renamed Poutokomanawa – was a true team effort. Plunket partnered with Auckland Council's The Southern Initiative and local whānau for the project, and families told us what they needed in our centre. Investments came from the NZCT (New Zealand Community Trust) and the Ted Manson Foundation.
Mr. Manson wanted to support Plunket's work in Manurewa as he learned about the community's complexities and challenges while doing research with Police and other community services.
"I know it takes a village to raise a child and that for this to happen you need a hub for the village – what Plunket is aiming to create here is that hub. I think it's going to be a special place for families in South Auckland and am proud to be associated with it," he said.
The Southern Initiative's Social Intrapreneur Angie Tangaere said Plunket was courageous in choosing a whānau-led design process for the centre, placing family and community at the centre of the process.
The Ted Manson Foundation funded Poutokomanawa's kitchen and playground.