Whānau Āwhina Plunket is on a journey to ensure equitable health outcomes for tangata Māori.
This is a goal we are passionate and committed to achieving – and we know we can't do it alone.
Our Kaiārahi Māori (Māori Capability Advisors) support Whānau Āwhina Plunket to strengthen our internal capacity and capability to truly 'walk the talk'.
Their role is to assist, support and work alongside our Executive Leadership Team to ensure we're delivering equitable and meaningful outcomes for whānau Māori.
We believe if we get it right for our most vulnerable whānau, we will get it right for everyone.
Meet our Kaiārahi Māori:
Diane Pakai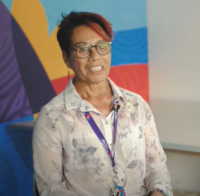 Ko Puketapu te maunga
Ko Ngaruroro te awa
Ko Takitimu te waka
Ko Tamatea Ariki Nui te rangatira
Ko Ngati Kahungunu ki Heretaunga toku iwi
Ko Ngati Hinepare me te Upokoiri toku hapu
Ko Omahu toku marae
Ko Kahukuranui te wharenui
Ko Ruatapuwahine te wharekai
Ko Mataora Toatoa raua Ko Tangimatua Hohepa oku matua
Ko Diane Tangiora Pakai taku ingoa
Ki Tamaki Makaurau Grey Lynn e noho kainga
E toko toru nga tamariki, e toko whitu nga mokopuna
Ko Kaiarahi Maori Capability Advisor ahau me nga roopu Whānau Āwhina Plunket
No reira Tena Koutou, Tena koutou, Tena koutou katoa
Prior to her role as a Kaiārahi Māori, Diane was a health care worker for the B4 School team. It was there that she realised more needed to be done to service Māori whānau who need us most.
Diane has a background in health and wellness and has a number of qualifications and work backgrounds – naturopath, teacher, personal trainer, health & wellness consultant, coaching and volunteer support. She also brings with her experience as a solo parent, whāngai to her eight-year-old mokopuna, whaea to three adult children, kuia to seven mokopuna and, she says, aunty to too many!
Fitness, mindfulness and spiritual wellness are three things that Diane has always been passionate about.
"It was termed holistic healthcare, but it was the way we lived in Te Ao Māori from our late mother's perspective – it was her encouragement and upbringing that enabled me to be the person I am today."
"E hara taku toa I te toa takitahi engari he toa takitini - My valour is not that of an individual but that of a multitude"
"He waka eke noa - We're all in this together"
Leandra Wetere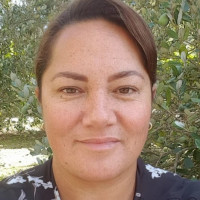 Ko Hikurangi te maunga
Ko Waiapu te awa
Ko Nukutaememeha te waka
Ko Ngāti Porou te iwi
Ko Hinepare, Ko O-Hine-Waiapu ōku marae
Ko Ngāi Tane, Ko Te Whanau a Takimoana ōku hapū
Ko Leandra Wetere tōku ingoa

Leandra is of Ngāti Porou and Scottish decent and began her journey with Whānau Āwhina Plunket in 2015 as a Community Services Co-ordinator. Prior to joining Whānau Āwhina Plunket Leandra's passion and commitment to whānau Māori had her in various roles within the community, working along side whānau and various sectors of public service, including a role as victim's advisor for the Waitakere District Court. Leandra holds a Bachelor in Māori & Indigenous Planning & Development.
She began her career as a signaller in the New Zealand Army during which time she was deployed to Cambodia as part of a United Nations Mission and was awarded the New Zealand Operational Service medal, the United Nations medal and the Australian Meritorius Unit Citation.
Leandra is married to Dale Wetere, nō Ngāti Maniapoto, Ngāti Whātua and they have three tamariki and two mokopuna which have given her the biggest qualification in life! In her spare time Leandra enjoys rāranga (weaving) and spending time with whānau.