Whānau Āwhina Plunket is on a journey to ensure equitable health outcomes for tangata Māori.
This is a goal we are passionate and committed to achieving – and we know we can't do it alone.
Our Kaiārahi Māori (Māori Capability Advisors) support Whānau Āwhina Plunket to strengthen our internal capacity and capability to truly 'walk the talk'.
Their role is to assist, support and work alongside our Executive Leadership Team to ensure we're delivering equitable and meaningful outcomes for whānau Māori.
We believe if we get it right for our most vulnerable whānau, we will get it right for everyone.
Meet our Kaiārahi Māori:
Leandra Wetere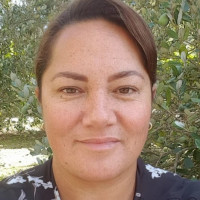 Ko Hikurangi te maunga
Ko Waiapu te awa
Ko Nukutaememeha te waka
Ko Ngāti Porou te iwi
Ko Hinepare, Ko O-Hine-Waiapu ōku marae
Ko Ngāi Tane, Ko Te Whanau a Takimoana ōku hapū
Ko Leandra Wetere tōku ingoa

Leandra is of Ngāti Porou and Scottish decent and began her journey with Whānau Āwhina Plunket in 2015 as a Community Services Co-ordinator. Prior to joining Whānau Āwhina Plunket Leandra's passion and commitment to whānau Māori had her in various roles within the community, working along side whānau and various sectors of public service, including a role as victim's advisor for the Waitakere District Court. Leandra holds a Bachelor in Māori & Indigenous Planning & Development.
She began her career as a signaller in the New Zealand Army during which time she was deployed to Cambodia as part of a United Nations Mission and was awarded the New Zealand Operational Service medal, the United Nations medal and the Australian Meritorius Unit Citation.
Leandra is married to Dale Wetere, nō Ngāti Maniapoto, Ngāti Whātua and they have three tamariki and two mokopuna which have given her the biggest qualification in life! In her spare time Leandra enjoys rāranga (weaving) and spending time with whānau.