What does a Plunket nurse do?
Plunket nurses are registered nurses with post-graduate qualifications in Well Child/Tamariki Ora Health who:
provide Well Child Tamariki Ora health assessments to support the health, wellbeing and development of our youngest New Zealanders and their whānau
advocate for the rights of families – from escalating concerns as part of submissions to government, or supporting whānau to access warm and dry housing
care enough to ask if parents of caregivers have any family violence or mental health concerns – and will support them in getting the help they need
are trusted and well-known figures in their communities, with expert knowledge of local and specialist support services available to help families thrive – and so much more.
Our Plunket nurses work in a variety of community-based locations including clinics, homes, PlunketLine (0800 933 922), marae and early childhood centres.
Learning the role
Plunket nurse are registered nurses. When a nurse starts with Plunket they're provided with an individualised orientation programme supported by a team of preceptors, clinical nurse consultants, clinical leaders and national educators.
After their orientation and a period of learning their new role, nurses undertake a one-year Post Graduate Certificate in Primary Health Care Speciality (Well Child/Tamariki Ora) Nursing. This qualification is provided by Whitireia Polytechnic in partnership with Plunket.
Nurses are supported by a designated clinical educator to complete both the academic and practice requirements of the programme in their place of work.
Throughout their time at Plunket, our nurses are offered a variety on ongoing professional development opportunities.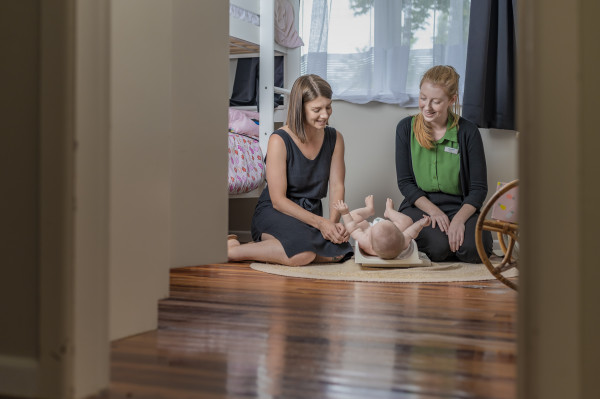 Graduates
Plunket loves working with graduate nurses, and we have established relationships with different universities and polytechnics.
As part of our graduate programme, we offer:
ongoing professional development and support (including a fully funded Post Graduate Certificate in Primary Health Care Specialty - Well Child/Tamariki Ora)
quality preceptors who provide teaching and coaching throughout your first year
clinical caseload sharing with your preceptor for at least 6 weeks, at times suitable to meet your learning needs
12 days (96 hours) paid study leave in the first year
the opportunity to achieve competent and beyond on our Nursing Council Approved PDRP (Professional Development Recognition Program)
cultural support, and a community of practice support group for new graduates
permanent contracts between 0.6-1.0 FTE
flexible hours - no night shifts, unless you work in PlunketLine, our 24-hour telehealth service
a full-time salary of $59,915 per annum in your first year based on 76 hours per fortnight.
Graduates working in Well Child Tamariki Ora are likely to be eligible for the Voluntary Bonding scheme which gives you $8,499 after three years or $14,165 after five years.
In some areas we can also offer short term placement opportunities while students are still undertaking their undergraduate degree.
Apply to become a Plunket Nurse
You can check our careers website for current job vacancies around Aotearoa New Zealand.
Moving from overseas
If you are a nurse interested in moving to New Zealand and working for Plunket, the information below will help you through the process.
Nurses who have worked in Well Child Health internationally
Plunket provides a recognition of prior learning through our Competency Assessment Programme for nurses who have gained a similar qualification to the Post Graduate Certificate in Primary Health Care Specialty (Well Child/Tamariki Ora) Nursing internationally.
Please feel free to contact us if you are a nurse with an international qualification in Well Child Health and are interested in working for Plunket.
Registration
To enable you to practice in New Zealand you are required to be registered with the New Zealand Nursing Council and hold a current New Zealand Practicing Certificate.
For information on work permits, visas and gaining residency in New Zealand, please contact Immigration New Zealand.
Returning to nursing
If you are looking to complete the Post Graduate Certificate but have not been a practising nursing for a while, you need to contact the Nursing Council of New Zealand to find out what you need to do to gain an Annual Practicing Certificate.
You may be required to complete a Return to Nursing programme, which Plunket provides to staff who have successfully been employed into a Plunket nurse position.
As part of the Return to Nursing Programme, you will need to complete a Competency Assessment Programme to be eligible for re-registration and to be accepted into the Post Graduate Programme.
If you'd like to discuss this with someone, please email Maureen Gibson (maureen.gibson@plunket.org.nz).
For more information on getting a current Annual Practicing Certificate, head to the NZ Nursing Council website.