What you won't have to pay for
Maternity care
Most women in New Zealand can choose maternity services that are free. This includes the services of your lead maternity carer (LMC). Most LMCs are midwives, but some GPs and obstetricians also act as LMCs. Most women in New Zealand give birth in hospital, and these costs are covered too. In many places around the country, you may also have the choice of a birthing centre or small community hospital maternity unit (called a primary maternity unit).
Maternity services that are free in New Zealand
There may be charges for:
antenatal or childbirth education classes
some tests at private laboratories
ultrasound scans.
Private obstetricians and private maternity hospitals also charge a fee.
Free health checks for children
We're very lucky in New Zealand that all children under 14 are entitled to free health checks:
free Well Child/Tamariki Ora health checks from a Plunket nurse or other health practitioner
free visits to the doctor they're enrolled with — nearly every GP offers free visits, but it's wise to check first
free prescriptions — there's no $5 charge, although you may have to pay for some medicines or extra services
most childhood immunisations are free
free after-hours care for urgent medical needs — ask your own GP or local pharmacist where to go for this service
basic free dental treatment until they turn 18
free B4 school check so you know your child is ready for school. They'll be checked for any concerns with:

sight and hearing
health
behaviour
social development
communication.
But there are lots of other costs you can expect when you have a newborn.
How much babies cost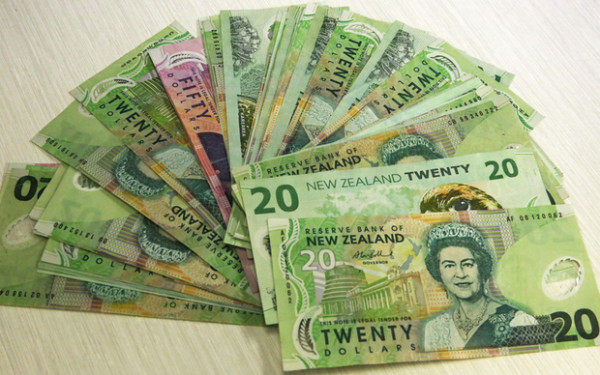 Babies can be expensive! Obviously, how much you spend on a baby depends on how much you can afford to spend, but here are some rough estimates from BNZ.
On a medium-budget spend, parents will need around $304/week to raise a child ($15,834/year); on a high-spend budget that goes up to $405/week.
Food and nutrition supplies (breastfeeding gear, bibs, solid food (from when your baby is six months old) and utensils) cost around $1470/year on average.
Nappies, baby wipes and creams cost an average of $1750/year.
Childcare is by far the biggest cost, at an average cost of $8750/year.
Bedtime supplies are expensive, with an average of $1285 for a cot, mattress, mattress protector, sheets, baby monitor and a portable cot.
The average annual spend on a car seat, stroller, and carry pack is around $650/year.
For children aged between one to three, BNZ estimates parents spend an average of $391/week, as the cost of all categories increases a lot.
If you don't have a budget and would like one, check out Sorted's budgeting tool
Budgeting for lost income and extra expenses
If you're planning a baby, there's lots you need to consider. Will you need to move house to accommodate your growing family, or buy a reliable family-friendly car that's easy to get a car seat in and out of?
Undoubtedly the biggest cost of having a baby comes with a loss of income as one parent takes time off. Add in costs for the things your baby needs, and money can end up being tight.
Now's the time to revise your budget and see how much you'll have to cut back.
It's a good idea to practice living on one income so you get an idea what to expect. This will also help you see where you can cut costs, and it gives you a chance to save money from your second income while you can.
Remember to budget for the extra cost of being at home during the day and up at night. Things like your electricity bill will be higher, you may use more heating for the baby, and you may be doing more washing so your water usage will likely go up too.
It's a good idea to start paying down debts while you can too. If you have a large credit card balance with a high interest rate, you could consider a balance transfer deal. Some banks offer low or even 0% interest on the balance transferred for a certain period of time when you transfer a credit card balance to their bank. Terms and conditions differ from bank to bank.
Once your baby is born, there's lots of government help available for families, including Paid Parental Leave, Working for Families tax credits, support for single parents, and subsidies for childcare.
Other things to budget for
Once baby is here, it's a good idea to have a will drawn up to make sure your baby would be taken care of should anything happen to you.
For new parents, insurance is a good way to provide your family with financial security should anything happen to either of you.
You may want to consider:
income protection insurance, which provides payments when a person is unable to work and earn income (normally due to accident or illness).
health insurance. If you already have a health insurance policy, think about whether you'll include your child on it. If your child develops an illness before they're named on the policy, this illness may be excluded as a pre-existing condition.
life insurance. This provides a payment when the person named on the insurance policy dies.
Not everyone can afford these insurances, but they're a good thing to consider if you're not sure your family can be cared for if you're gone.
Cost-saving tips for parents-to-be
There are some things you need to get in preparation for your baby's arrival. But before you go shopping, it's a good idea to talk to other parents about what you actually need in those first few months.
You may want to stick to the basics to begin with - a safe place for them to sleep, a way to travel (car seat, stroller), some clothes, feeding equipment, and lots of nappies, wipes, and soft washcloths.
Here are some ways you can spread or reduce the costs of a new baby.
Start buying things like wipes, nappies, soft facecloths and other necessities each time you go grocery shopping. This means you'll have a stock once your baby arrives. Look for specials and buy in bulk where you can. Remember babies aren't all born tiny, so buy some larger nappy sizes.
Borrow items where you can.

You can borrow baby beds like bassinets, Pēpi Pods® or wahakura until your child is too big for them, and then return them. If you don't have a baby bed, ask your midwife, doctor, or Plunket nurse for help to get one. If you're on a low income, you might be able to get help from Work and Income.
Think about joining a toy library rather than buying lots of toys.

Buy second-hand items.
If you're buying new, don't pay full price - buy bigger more expensive items like strollers, car seats, and cots on special.
Babies grow out of clothes really quickly. You may find that other parents you know offer you clothes (and other things like toys and books) their baby has grown out of - take them. You're helping them make space for other clothes, toys and books their baby now needs. If you don't know other parents, you can pick up bulk lots of baby clothes on sites like TradeMe.
Newborn shoes can be expensive - and they don't need them. Warm socks are just fine.
If friends want to throw you a baby shower, think about what you need and don't be afraid to ask for specific things – or simply ask for vouchers so you can buy once you know what you need.
If you're on a low income, you might be able to get help from Work and Income New Zealand