Most children move from a cot to a bed between the ages of 18 months and three and a half years. There's no set age to move your child, but it's probably safest to wait until they're two, unless they start trying to climb out earlier.
Moving into a big bed is a big deal for children, and it might take them a while to adjust. Sometimes the shift to a bed can bring new bedtime battles, late night wanderings or early morning wake-ups, so you might want to choose a time when you're ready to deal with these.
Making the bedroom safe
Once your child is in a bed they can get out and wander around when they want, so it's important to make sure their bedroom is safe.
Before you move your child into a bed:
use plug/socket covers so your child can't stick anything in them
make sure heaters meet New Zealand safety standards, and keep them a safe distance from your child's bed
install safety locks on windows so they only open a little bit, and make sure the gap isn't big enough for your child to climb through
secure any hanging cords - including mobiles with hanging strings - because they're a strangulation hazard. Wrap blind and curtain cords around clips or cleats attached to the wall at least 1.6 metres above the floor so your child can't reach them.
use brackets to secure your furniture and other heavy objects to the wall so they can't fall
keep any medicines, cleaning products, and anything else poisonous out of the bedroom, out of sight, and out of reach, along with choking hazards like coins and small batteries.
If you don't have a safety gate across the doorway of your child's room, you'll need to make the rest of the house safe for them as well in case they get up in the night.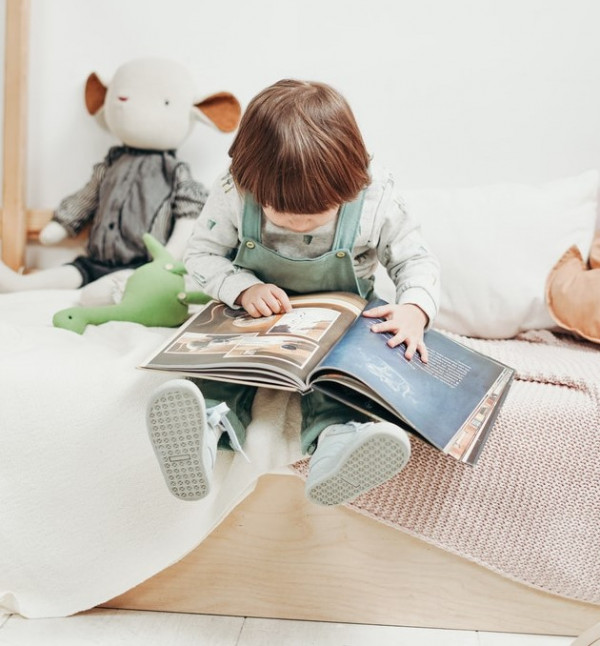 Choosing a bed
There are a few different options when your child moves from a cot to a bed. They could move to a:
toddler bed - these are small, low, and toddler-sized, and normally have guard rails on all sides. Some cots convert to toddler beds, and you can keep using your cot mattress and bedding.

regular bed - often this is a mattress, box spring and bed frame, with a bed rail/safety rail to stop your toddler from falling out. A double or bigger size bed gives plenty of room for reading to your toddler in bed.

Make sure the safety rails fit tightly against the mattress, checking for gaps your child could get stuck in. If there are gaps, it's safer to use the mattress on the floor until your child is older.

mattress or futon on the floor - this is a great option because it provides your little one with a big-kid bed, but they can't fall out of it.

Make sure you put the mattress on the floor away from the walls. This will help prevent your child getting wedged between the mattress and the wall and being injured or suffocating.
Whichever option you choose:
remember pillows are a suffocation risk for children under two, as are soft toys and bean bags. Keep these things away from the area on or around the bed.
there's a higher risk of falls and injuries when children wear baby sleeping bags in a bed, so think about whether they'll continue to wear one.