At Whānau Āwhina Plunket, we want all tamariki in Aotearoa to get the best possible start. We've walked alongside whānau and families for over 100 years, but we need to do better to meet the needs of whānau, pēpi and tamariki Māori.
Under Te Tiriti o Waitangi (Treaty of Waitangi), whānau Māori have the right to culturally safe service and equitable outcomes. Yet Māori are disproportionately represented across a wide range of poorer health outcomes in New Zealand. Not all whānau are equally able to access the services and support they need or receive the outcomes that they would want and therefore pae ora cannot be achieved.
Whānau Āwhina Plunket is taking a bicultural approach to the development of services so we can deliver in a way that better meets their needs and helps Māori whānau achieve their aspirations.
Te Rautaki Māori – Ngā Pae o te Harakeke, our Māori Strategy, is guiding us on this journey.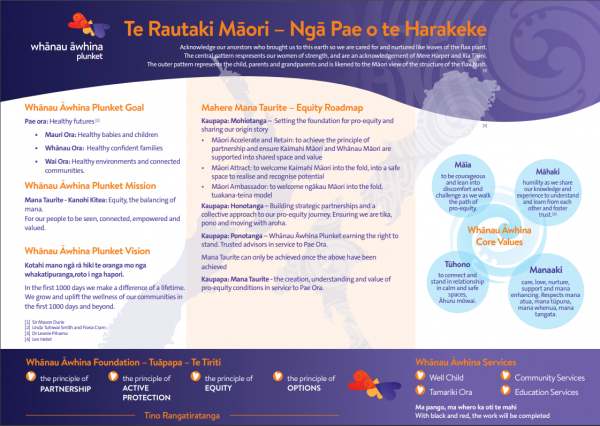 Goal - pae ora (healthy futures)
This is made up of Mauri ora (healthy babies and children), whānau ora (healthy, confident families), and wai ora (healthy environments and connected environments).
Mission - Mana taurite – kanohi kitea
Equity and the balancing of mana. For our people to be seen, connected, empowered, and valued.
Vision - Kotahi mano ngā rā hiki te oranga mo nga whakatipuranga, roto i nga hapori
In the first 1000 days, we make a difference of a lifetime. We grow and uplift the wellness of our communities in the first 1000 days and beyond.
What is Te Rautaki Māori – Ngā Pae o te Harakeke?
Te Rautaki Māori – Ngā Pae o te Harakeke is our document that lays the foundation for Whānau Āwhina Plunket's pro-equity work. It is built on the foundation set by the two previous Māori Strategies of 2000 and 2015 and is, therefore, horizon 3 of the Māori Strategy for Whānau Āwhina Plunket.
It is guided by the strategic priority of pro-equity committed by our Board of Directors and further by the commitment laid down at Puketeraki Mārae, Karitane where we made the commitment to tell the real story of Whānau Āwhina Plunket and honor the legacy of Mere Harper and Ria Tikini by ensuring equitable health outcomes from all services we offer to whānau Māori before 2025.
Mahitahi or collaboration and co-design was conducted with almost 300 of our people both internally and externally including kaumatua, kui, Māori nursing students, Māmā and Pāpā Māori and their whānau, Māori academic experts from various iwi, hapū and hapori. Kaimahi Māori, clinical leaders and Whānau Āwhina Plunket leaders have contributed to our Māori Strategy. Their feedback has shaped the strategy and the way we approach our work.
Our gifted name and tohu
Our strategy's name, Ngā Pae o te Harakeke, and tohu were both gifted to Whānau Āwhina Plunket us by renown artist Len Hetet.
The central pattern of this tohu represents our women of strength and acknowledges Mere Harper and Ria Tikini – our two founding midwives. The outer pattern represents the child, parents, and grandparents and is likened to the Maori view of the structure of the flax bush.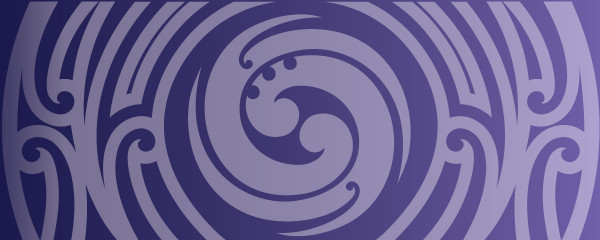 Core Values
There are four core values in Te Rautaki Māori that guide our mahi (work) at Whānau Āwhina Plunket.
Māia: to be courageous and lean into discomfort and challenge as we walk the path of pro-equity.
Māhaki: to be humble as we share our knowledge and experience to understand and learn from each other and foster trust.
Tūhono: to connect and stand in relationship in calm and safe spaces, (āhuru mōwai).
Manaaki: to care, love, nurture, support and be mana enhancing. To respect mana atua, mana tūpuna, mana whenua, mana tangata.
Mahere Mana Taurite - Equity Roadmap
Mahere Mana Taurite is our roadmap and how we are going to support pro-equity at Whānau Āwhina Plunket. This will lead into our Action Plan.
This is made up of four key Kaupapa;
Mohiotanga (setting the foundation of understanding)
Honotanga (building strategic partnerships)
Ponotanga (earning the right to stand and be trusted advisors in Pae Ora), and
The fourth kaupapa is Mana Taurite (the achievement of equitable access and outcome for whānau Māori we serve). This kaupapa is unable to be achieved without the first three kaupapa being achieved.
Our first Kaupapa, Mohiotanga, includes three key elements:
Māori Accelerate and Retain: Partnership, ensuring Kaimahi Māori and Whānau Māori are supported
Māori Attract: Welcoming Kaimahi Māori, realising and recognising potential
Māori Ambassador: To welcome Ngākau Māori