About PlunketLine
When you call PlunketLine your call will be answered by a Plunket nurse, who can give you advice and information on parenting issues and your child's health and wellbeing.
Plunket Nurses are registered nurses with additional qualifications in Well Child health. We also have nurses who can speak other languages.
As well as providing high-quality advice, PlunketLine is a great way to access our nationwide family support network. It is a gateway to many services, including referrals to local Plunket nurses and Plunket family centres.
You don't have to be registered with Plunket to access or use PlunketLine services.
PlunketLine has been in operation since 1994 and continues to be a highly valued and respected provider of child health advice, supporting families and complementing the Plunket services provided in the community.
PlunketLine lactation consultants
If you're struggling to access a lactation consultant locally – PlunketLine is here to help.
All you need to do is give one of our PlunketLine nurses a call on 0800 933 922 (this is free, and available 24/7) and we'll do an assessment and book you an appointment with one of Plunket's International Board Certified Lactation Consultants (IBCLC®).
These breastfeeding consultations are free and available for all breastfeeding women – even if Plunket isn't your WellChild provider.
Find out more about our video-call lactation consultant service.
Emily's experience using our service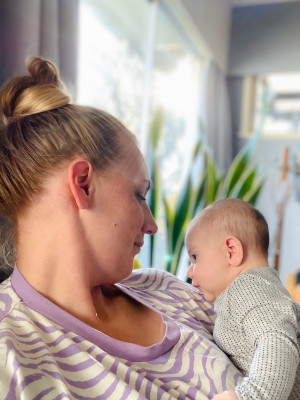 "Twenty-four hours into the COVID-19 lockdown I was having challenges breastfeeding my week-old daughter Elinor. I was having issues with supply and anxiety, and was lucky to be set up for a virtual meeting with a Plunket lactation consultant. I had significant challenges with breastfeeding my first baby and tried everything under the sun, but never made it to exclusive breastfeeding.
My Plunket lactation consultant, Hannah, was fantastic. She was warm, genuinely interested in helping us succeed, incredibly empathetic, gentle, knowledgeable and generous in sharing that knowledge. Hannah gave clear practical advice, listened carefully to my worries and goals, and answered all of my endless questions. We had a few sessions over Zoom and she gave such lovely validation about our successes, as things improved day-by-day.
I credit Hannah with the fact that I am now successfully – and exclusively – breastfeeding my daughter, who is now almost 10 weeks old, and absolutely thriving. I will forever treasure the moments I spend nursing wee Ellie."
Disclaimer
Plunket nurses and Plunket telenurses may only give information and advice to enquiries made from within New Zealand. If you are outside of New Zealand please contact the local health agency or parenting support service in the country that you are in.
We aim to ensure that the information given is accurate and consistent with current knowledge and practice within New Zealand. However, knowledge and practice is constantly evolving and individual cases may require specific advice that cannot be addressed through this site.
Please note that enquiries on this site, Facebook or Twitter can take up to three business days for a response.
Accordingly, responses given on this site, Facebook or Twitter are not intended to replace a consultation with an appropriately qualified health professional. We cannot guarantee that information provided by us through this site, Facebook or Twitter will meet your child's or your health or parenting requirements.
If you would like to speak to a Plunket telenurse now, please phone PlunketLine on 0800 933 922. If you require health advice for children over five years old or other whānau members, please contact Healthline on 0800 611 116. Both these numbers operate 24 hours/7 days a week.