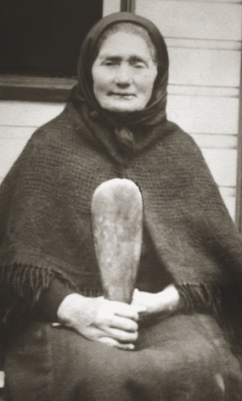 Descendants of Mere Harper laugh as they tell stories of 'Big Mary'. Extraordinarily tall and strong, she earned money as a young wāhine (woman) carrying passengers from the ships that came in at Waikouaiti. If a passenger ever dared to use their heels to hurry her along, Mere would promptly drop them in the water. In a particularly impressive show of strength, she once carried three gold diggers, with swags, from the surf boat to the beach – one under each arm and another on her back.
Born in 1842 into the shore-whaling community at Waikouaiti, she became a beloved and well-respected member of the Karitāne community, working as a tōhuka, midwife and healer.
Mere was a rich source of knowledge for her people, and for Pākehā who wanted to learn from her. Ethnographers would spend long nights in Mere's home discussing the various sites of significance to the local hapū, Kāti Huirapa. She protested the establishment of toilets at wahitapu (sacred sites) and held firm to the teachings of her tūpuna while navigating both Te Ao Māori (the Māori world) and Te Ao Pākehā (the Pākehā world). This is how she came to influence the teachings and practices of Dr Truby King.
Mere and Ria Tikini, who was 30 years her senior, were often called on for help with health issues within their community. They worked together for half a century to lift and restore and the health of their people. Together they birthed generations of pēpi (babies) in their small community.
Mere lived her whole life in Karitāne, and died on 30 May 1924 at age 82. Mere and her seven siblings have many proud descendants. They are among the hundreds alive today because of the work of Mere Harper and Ria Tikini. These women were the first in a long line of wāhine toa (women of strength) who have paved the way for Plunket, a service that is unlike anything else in the world.