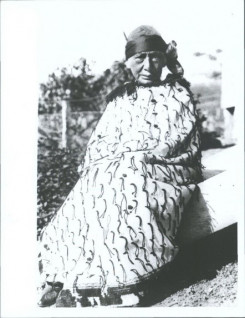 By the time Ria came into the life of the first Plunket baby, Thomas (Tommy) Rangiwahia Mutu Ellison, she had many decades of experience as a healer and a midwife, and deep traditional knowledge - knowledge from her tīpuna, passed down through generations, knowledge informed by te taiao (the environment), and knowledge informed by tikaka Kāi Tahu (Kāi Tahu customs/protocols).
Not only was Ria Tikini an influential tōhuka, healer and midwife in the Karitāne community, she was also a clever businesswoman who sold poultry – hence her nickname 'Mrs Chicken'.
Helping new mothers
In the early 1900s, just as today, some mothers had problems with breastfeeding. Local Kāi Tahu mothers were struggling with pēpi (babies) who had trouble latching and others who were allergic to breastmilk. Some mothers weren't able to produce enough milk for their babies.
They turned to Ria and Mere (Mary) Harper, who were the first ports of call for these and other health issues in the community. Ria and Mere encouraged healthy mothers to share milk and other supplies with mothers who were struggling. They established a network of people who both received and gave support to pēpi (babies) and whānau (families).
In 1906, when Ria was 95 years old, she helped deliver Thomas Rangiwahia Mutu Ellison (Tommy Mutu) at Puketeraki. His older brother had died in infancy, and Tommy Mutu became ill too. Ria and Mere took him to the home of Mere's friend and neighbour Dr. Truby King, where he stayed for several months.
Tommy became the first Plunket baby, thriving under the care of Ria, Mere, and Dr. King.
A life of service to the Karitāne community
In the later years of her life, Ria watched as the men she had cared for as infants left her whenua for war in a foreign land. At the age of 108, she was still working and caring for her community, helping with food and entertainment at an outing for wounded soldiers arranged by her whāngai (adopted) son Henry Parata.
Ria Tikini was considered the 'oldest person in the dominion' when she died in 1919, aged 109. Her memories are held by the uri (descendants) of those she served, and those she loved.